Grown and Built in the Midwest
All of the hardwood furniture at Hedge House Furniture is made from four different wood species, all locally sourced: walnut, white oak, cherry and maple. Nearly all of our furniture pieces can be selected in one of these wood species so that you can find the perfect piece to match your space.
We choose lumber suppliers that are committed to protecting the environment and show a commitment to sustainable forestry practices. Every bunk of lumber that comes through our doors has been sourced from the Midwest. Sustainable forestry helps to balance the needs of the environment and communities. One of the benefits of hardwood furniture pieces is longevity.
We build furniture that will last for generations and brighten your home for years to come. Each piece of furniture is handled with care, from the building process, to the white glove delivery at your doorstep.
Check out our latest work
here.
Walnut
It has light to dark chocolate brown tones, and provides strength, hardness and durability without excessive weight. Its generally a straight grained wood, with the occasional swirl or curly grain. Unlike most woods that darken with age UV exposure, walnut will eventually turn a lighter shade. Please be mindful of this when purchasing pieces that will receive direct sunlight.
White Oak
White Oak has a light brown, blonde appearance and is naturally water-resistant. This wood is very hard, durable, heavy and coarse-grained. When the goal is peace and calm, we go for white oak. There is something rather serene about the golden tones and the waves of grain.
Maple
We use a hard, white maple that has a light, more consistent tone than some varieties. It's similar to Oak regarding sturdiness, shock resistance and weight. With its diffused, smaller pores, it has a smooth even tone.
Cherry
Cherry is a strong, fine-grained hardwood, displaying pink undertones that may occasionally contain small brown pith flecks. Its rich coloring will eventually darken with UV exposure, giving it a silky, dark patina. We like to pair items made of cherry with black accents. The versatility and warmth will be a welcome addition to your home.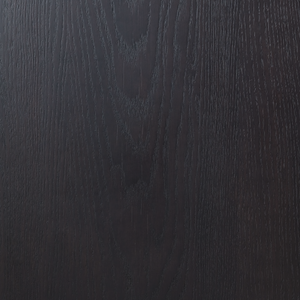 Charcoal Dye
Our charcoal dye finish is fairly opaque. The color reads as black, and the wood grain is visible. We use this dye on white oak.
Hardwood Sample Set
White Oak, Walnut, Maple, Charcoal Dye, Cherry